Our Contact Info:
Paul Stockford
Research Director
National Association of Call Centers
100 South 22nd Avenue
Hattiesburg MS 39401
Tel: 480.922.5949
[email protected]
www.nationalcallcenters.org
Circulation
In Queue circulation 17,221
Advertise with Us
Click on the image below to view the NACC Advertising Page where you can view our channels and prices.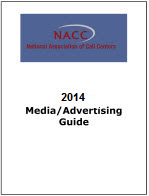 To advertise with the NACC, please contact the NACC at:
Tel: 601.447.8300
Fax: 601.266.5087
Email: [email protected]
Underwriters
All leading call center companies and suppliers should examine the NACC Underwriting opportunity in 2014 as evidence of their dedication to the growth of the call center industry. See the NACC Advertising Page for more information.
Share the Knowledge
Send this newsletter to colleagues by clicking "Forward this message to a friend".

Quote
"Life is like photography. You need the negatives to develop it."
~Unknown
Reports from the NACC
The NACC has been burning the midnight oil and typing until our fingers are sore to bring out reports to our members. Each is listed below. If you are interested to see what we are writing about, click on the links below and download the executive summary of each. If you like what you see, join the NACC so that you can view these reports and others that will be coming out soon on our website. These reports will ensure that you know the latest trends in the industry.

---
Help Us Help The Industry!
Paul Stockford, Research Director, NACC and Chief Analyst, Saddletree Research,

[email protected]
Regular readers and members of the NACC know that at the end of each year we launch a survey asking customer service professionals their attitudes, opinions, and intentions on several timely contact center industry trends, issues and technologies. Your support of our effort is critically important to the work we're scheduled to do next year. All of our research is shared with the NACC through this newsletter and to e-mails directly to members.

The NACC is a university-based 503(c)(6) not-for-profit organization with the sole function of providing statistically-valid research for the benefit of the customer service profession. We don't have the deep pockets of the large media companies that disguise themselves as industry research organizations and ask for your assistance. We operate on a shoestring budget and will cease to function without your support and cooperation. So, please help us to help the industry.

Our survey can be accessed here:

https://www.surveymonkey.com/s/NACC2015



It shouldn't take you more than about four minutes to complete the survey, which is comprised entirely of closed-ended questions that you can answer off the top-of-your-head. I know there are a bunch of you out there that help us out with this survey each year, so please help us again as we go into 2015. You don't have to be an NACC member to participate, just a contact center manager.

As always, no one will contact you as a result of your participation. In fact, we don't even ask for any identifying information, only demographic information. No salesperson will call you as a result of your survey participation. Heck, I won't even call you myself unless you want me to.

Please take 4 minutes right now and go to

https://www.surveymonkey.com/s/NACC2015

, complete the survey and know you've made my Christmas wish come true!
---
We've all heard the clichés about change. "The train is leaving the station. Get on board or be left behind." The message is to accept change "because I said so." Yet today's employees expect more from their leadership. They want to be enrolled in the change process.

A client of ours summed it up very nicely: "The four things you need for a successful project implementation are:
An engaged sponsor

Collaboration between IT and business

Established employee sponsorship

The right amount of change management from the beginning"

Change management is a systematic approach to address the "people side" of projects – from an organizational and individual perspective. But a key element is "from the beginning." Most often change management is an afterthought, perhaps even when things start to head south. But it should be considered a requirement and defined within the project plan at inception, including the tasks required and the resources responsible.

Successful change management includes a team of champions that integrate the change management goals with the technology, process and/or organizational project. Successful projects incorporate some or all of the following change management activities:
Working with the executive sponsor to identify and recruit representatives from each site or function to be part of the team

Being intentional about messaging and ensuring all levels of leadership are in the loop before sending to front line staff
Developing and tracking change stages to coincide with the project stages
[Note: We use Prosci's ADKAR model – Awareness, Desire, Knowledge, Ability and Reinforcement. Visit

www.change-management.com

for more information.]

Developing carefully written communication that reinforces progress at each change stage

Creating a pilot team who are change advocates

Scheduling the executive sponsor at key events to show continued support

Communicating frequently using a variety of media – emails, dashboards, posters, team huddles, creative team contests, etc.
It is important to get as creative as your culture allows to produce the proper level of awareness and desire to support change. When done correctly, each individual engaging in the process becomes a change agent.

One organization created a road trip theme and took their team on a trip while a new tool was being developed for performance management. T-shirts, messages about being in the "driver's seat" and a map to track the project progress all helped keep everyone engaged. This project started seeing performance improve BEFORE the tool was even launched due to the successful change management efforts. And now, six months post deployment, the organization has raised one of their goals because the agents have already raced across the finish line!

There will always be some people that do not like change and will avoid supporting it or actively work against it. Prepare your front line management to coach and encourage every agent, addressing each individual's perspective. By utilizing appropriate change management techniques, the team will better understand the rationale for change and support your efforts to deliver value to the company and its customers.
---
Management Technology 2.0: Can MIT Research Results Impact Turnover?
Ron Davis, CEO, Tenacity,

[email protected]
(Note from Paul Stockford: I was introduced to Ron Davis by a longtime business colleague who met Ron at the Sprint Mobile Accelerator in Kansas City earlier this year. I am very interested in potential solutions to the turnover problems that plague the contact center industry and Ron's company, Tenacity, offers a unique approach to addressing this problem. As a result, I did something I rarely do in that I invited Ron to submit a newsletter article about his company's approach to behavior changes that I believe will positively impact employee churn in the contact center. For more information on this unique approach visit www.gotenacity.com)

Technology will soon start chipping away at yet another of our industry's biggest problems. Computers have vastly expanded our productivity. To evaluate an employee, managers don't just listen in on an occasional call—they can judge an employee on twenty objective KPIs with platforms offered by companies such as

NICE

and

Verint

. And companies like SATMAP provide advanced algorithms that can distribute workflows to optimize cost per call and CSAT scores. Software is augmenting managers like never before, making them smarter and faster—able to do things unimaginable a few years ago.

This revolution is about to take its next big step, beyond productivity. Retaining employees is a huge problem in our industry and squeezed managers just do not have the resources to invest in squeezed employees. But technology has an answer.

Employee churn costs a fortune. We know the causes. Low pay, angry customers, lack of appreciation, poor stress-management skills, bad health, and social isolation all keep the revolving door…well, revolving. We even know some solutions. But higher pay, and a cuddly workplace with lots of managerial mentoring and time for teambuilding is really expensive and the risks are extremely high if it doesn't work.

Still, something has to be done. The cost of employee turnover is now better understood than ten years ago and it isn't pretty. It isn't just finding and training employees for a few weeks. It is also paying them a full salary even during the six months it takes them to actually get proficient at their jobs. Since employee tenure is so short, an enormous portion of overall salaries go to this "training soon-to-be-former-employees" regime. And this doesn't even account for the hidden costs—turnover affects employee morale, which likely lowers productivity and causes even more turnover.

Because of this, the industry is increasingly looking to automation to make a dent in turnover. Software is a cheap way to address a problem when compared to all that goes into building a high retention culture from the ground up.

Evolv

uses big data to help select employees—identifying people that are likely to thrive and stay with the company longer. That's a brilliant start. Gamification companies focus on the next step, more engagement from existing employees. Though these are primarily focused on productivity, they make the intuitively appealing claim that adding fun to the workplace should make employees want to stay with the company.

We believe this is just the beginning. Though gamification has its place, the next wave will be more scientific. It also won't be designed to squeeze even more productivity out of employees. Solutions that hang KPIs out in front of employees and try to find new ways to beckon them to work harder and faster, even if they are fun, aren't likely to keep people around longer. No, the next generation of solutions will do what mangers wish they had the time to do--build retainable employees—make them more resilient, and more engaged with their coworkers and managers. Companies focused on ways to automate employee recognition were the first foray into this area. But this is just the beginning.

The ones that will really take hold in the market will use cutting edge science to confront more of the root causes of turnover. It has been proven that employees that cope well with stress, and that work with friends are much less likely to quit. But that is very hard to make happen in the call center! That is why we need technology to once again augment the managers who are spread so thin. And because the stakes are high, managers will demand technology that can create demonstrable results, not that just tells a nice sweet story.

Tenacity is building a platform to increase employee resilience and loyalty by using a behavior change method invented at MIT and proven by one of the top scientists in the world to actually change behavior. We use this method to focus on some key behaviors that are clinically proven to reduce stress and increase quality of life, and it also builds bonds among coworkers. The research is clear—if we do that, your employees are way more likely to stick around. And we are in the process of rolling out pilots with some of the top players in your industry, who will be measuring our effect on their churn rates and KPIs very closely.

But what we are doing is just the beginning. Whether it is our company or others, this new wave of technologies will ultimately "productize" scientific solutions to all the addressable causes of churn. No, software can't give your employees a raise or make people be nice to them on the phone. But if it takes advantage of the latest scientific research, the software can make them a part of something good, connected to friends, appreciated by you, and able to cope with the pressures of the job. It is a way to invest in your people by getting them to invest in each other and themselves. And, besides being measureable, it's a lot cheaper that way.

If you like this comic and would like to see more, write Ozzie at [email protected] and visit his website at http://callcentercomics.com/cartoon_categories.htm or just click on the comic to take you to his page. The NACC appreciates Ozzie letting us use some of his comics in our newsletter.
---
To view past issues of In Queue, please click here.

If you would like to contribute to In Queue, please reply to this email with "Contribute" in the subject line.
Copyright 2014 National Association of Call Centers